When information comes across my desk, err, onto my computer screen and it tickles me to the point of LingOL I just have to share it with you.
Kathy Roberts (The Tidy Tudor), my good friend in New Jersey whom I collaborated with a couple of months ago with our Get Organized webinar (thank you to all of you who joined us), was telling me about her grandson who received a video camera and editing software for Christmas last year and is really, really good at using it. Her reason to tell me was that she suggested we use him to video our upcoming seminar in New Jersey so we'll have a video to share in addition to the real seminar (more to come on date and how to sign up for it).
To show me his abilities, Kathy sent me a YouTube link of a 4-minute documentary he produced. Well, it was such a funny video, I felt this young man needs to be watched. I'll warn you in advance, it has nothing to do with getting organized, but then a lot of what I send you doesn't these days. I'm an up lifter and I know getting organized is uplifting in itself, but there's way more to life than being organized. So let yourself be sidetracked and enjoy the humor and creativity of Daniel Large! Just click on the air balloon and watch.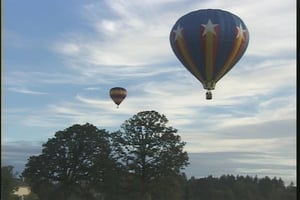 Have a wonderful day. If you enjoyed the video, please share it with someone whom you think would enjoy it too.
Love,

P.S. Please watch for more information on Kathy's and my upcoming seminar!