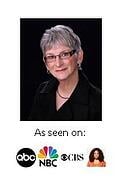 This series of 21 how to clean videos you've been given here at Club Organized, have hopefully helped you, if you've not been sure about "how to clean" your home. Jeffrey Jones, (The Cleaner Guy) is my nephew and was my sister Peggy's messiest child. When he left home to attend West Point, he left his room a disaster and my sister and I wondered if he'd ever change.
Well here he is today, a grown up SHE (Sidetracked Home Executive) who has not only become organized, he's clean and successful! He should give you hope for yourself and any children you've raised and wondered if their SHEness would hamper their success.
Jeffrey lives in Atlanta and is a very successful attorney and he agreed to help make your home a huggable, clean, cozy home. In this video the Cleaner Guy talks with Kristi Marsh, my husband's daughter who is dedicated to helping you have a toxic-free home.


Click on the Cleaner Guy's t-shirt to get recipes to make effective and inexpensive cleaning products.
Remember, a cluttered home is not clean. Focus on streamlining your home and keeping only what you use and only what pleases you. Clutter not only keeps you from being able to dust and vacuum, it keeps your peace at bay because it has a voice. There is toxicity in clutter. In The Joy of Being Disorganized, there is a chapter on how to declutter and the notions in that chapter can transform your home into a place where you and your family thrive.
Blessings,