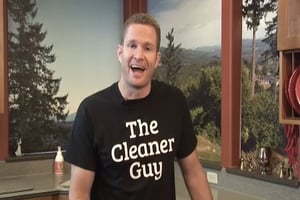 Jeffrey Jones is The Cleaner Guy
He'll show you how to clean!
He'll teach you how to make your own cleaning products!
And he'll entertain you!
I'm pleased and excited to announce the launch of a series of free "how to clean" videos.
The idea came from a discussion I had with my daughter Joanna. (She helps me clean my house every other Friday.) Here's how our discussion went.
"Joey would you be willing to show how to clean the house on camera?"
"Mom, why me?"
"Well, you're young. Women don't want to watch an old lady clean house"
"Well who wants to watch a middle-aged woman clean house?"
"More than who'd wanna watch me do it."
"No, Mom, what you REALLY need is a gorgeous guy with a great body to do it."
"Well that leaves Terry out. Do you have anyone in mind?"
"How 'bout Jeff?"
"Your cousin?"
"Yeah, he's cute."
"Uh, he lives in Atlanta and he's probably way too busy."
"Call him and ask him if he can come out."
The First Cleaner Guy video is coming up below.
Jeffrey is my sister's (Peggy Jones) son and in addition to being an attorney who flies all over the world in his work, he loves improv. Jeffrey was Peggy's messiest kid growing up and I wondered if he even knew how to clean house. I called him in Atlanta and here's how the conversation went.
"Hi Jeffy. It's Aunt Sissy."
"Hi Aunt Sissy, what's up?"
"The next time you're on the west coast, would you like to clean my house on camera? Joey said women would love to watch a gorgeous man with a great body show how to clean house."
After he had a good laugh he said, "Sure! Sounds like fun, do you want me to be some kind of character?"
"Yeah, that'd be great."
Meet the Cleaner Guy
The character Jeff chose for "The Cleaner Guy," is a dude that's a little clumsy, accident prone and short on patience, but he really knows how to clean a toilet, make a bed, vacuum, dust and polish furniture and he has recipes for toxic-free cleaning products that he shows you how to make! My prayer is that you'll share these free videos each Friday with your friends and family.
So every Friday he'll be right here as we go room-by-room in my home with "The Cleaner Guy."
If you'd like to make your own safe cleaning products just tap on "The Cleaner Guy" for the recipes.

P.S. As you may know, I don't sell cleaning products and I don't recommend products...until NOW. With the introduction to The Cleaner Guy, I just have to tell you about the Shark vacuum because it is crazy amazing. (SHARK isn't paying me to tell you this by the way.)
The creators of this little sucker took EVERY grievance I've ever had with a vacuum cleaner and eliminated the problems! They ended up with the best upright vacuum cleaner I've EVER used and it's very reasonable! And there are NO BAGS!! And, you get to see through the clear receptical and marvel at all the crap you sucked up. I've had my SHARK for four years and it's as healthy as ever. In these how to clean videos, you'll see my Shark. If you use this link to buy a Shark on Amazon, I'll get some kind of kick back (or so they say) and that'd be real nice! Just click on the Shark.