WOW. Thank you for the great response to The Cleaner Guy segments.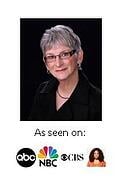 So far you haven't seen him clean, but that's because we wanted you to make the toxic-free cleaning products right in your own home. In this video, The Cleaner Guy makes laundry detergent. I suggest quadrupling the recipe if you have a big family.
You'll see that I chose to leave a few "bloopers" in this video, so you can see how goofy my nephew can be. It's just one of the things I've always loved about him! I wanted to share his humor with you, plus you'll love this detergent!
To get the laundry detergent recipe and many other safe and inexpensive cleaning products made from things you probably already have at home, just tap on The Cleaner Guy's shirt.

Love,

P.S. Please feel free to share this video. Your word of mouth really helps me.