If you're tired of sending Christmas cards, and they've sort of lost their original fun, why not let yourself off the hook and just stop it? Of course if you love the project, and you have oodles of time, by all means enjoy. This video will give you an alternative that could be way more enjoyable to you.
If you're considering this idea, you may as well consider this one too: give money with humor and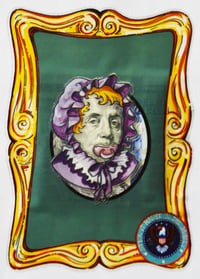 artistic flair. Just think of all the time you'll save and the stress you'll avoid. Just click on Ben Franklin on the $100 bill and get your Stick it Right on the Money Gift-giving Kit. Also, I'm giving away the DVD Everybody Loves Money when you purchase a Stick it Kit as long as you do it this weekend.
This is the only place in the world to purchase these fabulous sticker disguises and since this is such a teeny, tiny company, the chances that anyone in your circle of family and friends has ever seen such an invention are virtually nil.