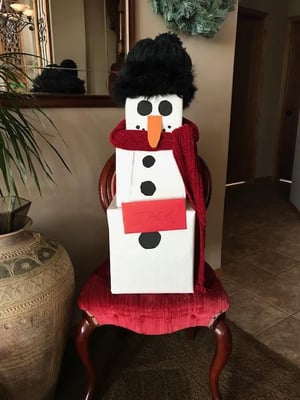 Tomorrow morning at 9:05 on my Club Organized Facebook page, I'll share a video and talk about fun gift-giving ideas, like this one.
This snowman is an easy way to give a child four gifts in one! The bottom gift is a toy, the middle gift is pajamas or an article of clothing, the top gift is homemade, chocolate chip cookies and the envelope has some money in it. I wish I'd thought this idea up, but my granddaughter showed it to me on Facebook and I absolutely had to make him and share it with you. (I'm taking him on television tomorrow on Afternoon Live in Portland, Oregon.)
I wrapped the boxes in a white, satiny paper and you can use construction paper to make the eyes, nose and mouth. The hat could be another gift as well as the red scarf. (I used my snow hat, but the scarf came from the Dollar Store.)
The boxes are just stacked together (I didn't glue them). If you have to ship the packages, the person on the other end will be able to stack them because the buttons and face are glued on to create the snowman.
Don't forget, tomorrow morning at 9:05 be sure to watch the video I've scheduled on Facebook showing you some great ways to use your Stick it Right on the Money Gift-giving Kit. I'll be there too and we can chat and play with each other. I'd love to hear your gift-giving ideas as well as how you're celebrating Christmas this year. https://www.facebook.com/thecluborganized/
If you order the Stick it Right on the Money Gift-Giving Kit now, it'll get to you in plenty of time to create a bunch of gifts for Christmas and with this savings you'll only pay $13.95 plus postage and handling. I'm running this special until Sunday and while supplies last, I'm also going to give you the ELM (Everybody Loves Money) DVD which has ten creative ways to give cash. That DVD sells for $9.95, but I'm ultimately working toward having just digital merchandise, so I'm giving them away when you buy the sticker kit.
To go to my Club Organized Facebook page, just use this link https://www.facebook.com/thecluborganized/ and I'll be there waiting tomorrow morning at 9:05 Pacific time. Put it on your calendar, or you'll forget.
Merry Christmas!