T'was the day before...
The day before Valentine's Day a few years ago, my husband Terry asked me what I thought of having our friends the Lapslys and Geocks over for dinner and to play cards on Valentine's Day. "It'd sorta be a spur of the moment affair," he said.
Since I love spur of the moment events and I have a passion for cooking, entertaining and playing cards, I jumped at the thought.
My husband is so considerate -
Terry emailed the two guys (no formal invites) and both of them got right back to him. I got busy planning the evening. I pulled out all my Valentine decorations and set a table with red candles in see- through red goblets with different length stems.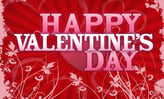 We really had a great time! I served a rack of pork and my recipe for Almost Carbohydrate Free Almond Bread and a Caesar Salad. After dinner I went into the kitchen and overheard one of the guys say to Terry, "Thanks for saving my ___. I'd entirely forgotten about Valentine's Day!" "Yeah, I forgot until two days ago when I invited you guys," I heard Terry reply.
- and sneaky!