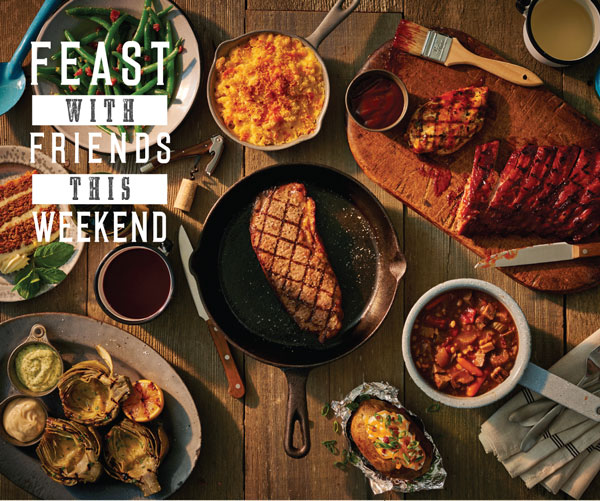 That's what the steak house's tantalizing email said.
$42 and you'll be home on the range, with another person of your choice.
Start out with any "Steakhouse Starter or try the Wagon Wheel Sampler Platter for only $3 more!
The words on the colorful and tantalizing E-Flyer were carefully chosen by an in-house Mark Twain, accompanied with photos from an Ansel Adams-type photographer.
Just looking at the food (which is probably plastic) your mouth starts watering. You can smell the aroma of the meal being grilled on an open fire! You can hear the wine being poured and taste a plethora of hor's d'oeuvres you imagine displayed on a miniature wagon wheel.

No matter how crammed your in box gets, when an email like that comes alive on your cell or computer screen and it's around 5:30 pm, it's just not fair! It can easily ambush any dinner prep.
Who wants to eat tuna casserole when you could drive downtown for fire-grilled chicken, BBQ ribs, crispy shrimp, grilled salmon or filet mignon sizzling on an open fire, accompanied by a loaded baked potato and a fresh garden salad, while finishing your feast off with any one of their decadent desserts?
"Honey?"
"What?"
"There's a special on at Black Angus!"
"It's not date night."
"I know, but look at this!"