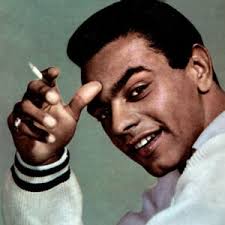 Experts claim romantic love lasts from 18 months to three years. Mother Nature must know this, so once she makes a connection, she has to work fast if she wants more babies!
In 18 months she can put out one baby and one on the way (giving the mother a little recoup time) and in three years she can produce three. Done!
That's what happened to me anyway and I blame it all on Mother Nature.

This will date me, but I have three children thanks to Johnny Mathis. When he sang Misty and those luscious tones flowed from his lips, "Look at me, I'm as helpless as a kitten up a tree," bang…I was pregnant with Michael and wouldn't have been surprised if he'd come out bi-racial I was so in love with Johnny. Chances Are (one of Johnny's biggest hits) rang in Peggy Ann and Wild is the Wind pulled Joanna from her non-physical place in the Universe to a place in our home.