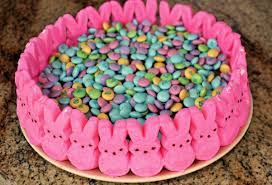 Easter is April 16 this year!
As we come together to celebrate the awesome miracle of Jesus's Resurrection, the sugar manufacturers have, once again, given us very colorful reminders (if we can make that mental leap) to remember what Easter is really all about. Let those brilliant Peep bunnies remind you of all the people who follow His teachings, and let that collection of multi-colored M&Ms remind you of all of your blessings. Don't EAT them, just let them remind you of how blessed you are and how grateful you are that Jesus did return in love for us all.
With that said, we really need to be careful not to buy into the sugar push in the name of this holy event. We can actually use the ubiquitous goodies to remind us that it's NOT ABOUT SUGAR. Try it the next time you're at the store. The minute your mouth starts to water because you just spied a display of Cadbury Eggs and you remember how much you love them, just swallow, pass the treats and run a quick thank you to Jesus.
I received this email and it's what inspired the subject of my blog today.

Dear Pam,
Since the New Year, 2015, began my beloved and I have been following a similar way of eating as yours. I am blessed with a wonderful European MIL who is still a fabulous cook at 94. She is oblivious to the fact that we have both lost 20 plus pounds and are feeling and looking good. When we declined her beautiful but deadly pancakes the other day saying that we had just had lunch...she burst into tears and said to her loving son...."You won't eat anything I cook anymore."