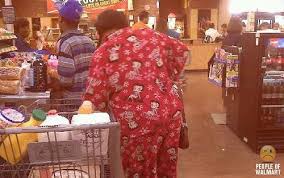 If you have a home-based business (38 million Americans do and $427 billion per year is made by them), or you are a full-time peacekeeper and peacemaker at home, or you're doing both, this blog is for you.
When you think about it, every institution has its "costume." Prisons, hospitals, courtrooms, restaurants, car repair shops, beauty salons and the list could go on-and-on. But if you Google, Dress for Success at Home you'll get a gob of photos of people in offices, outside big city buildings and walking on sidewalks all dressed for success for business outside the home.
Hey, you don't need to look like a Wall Street tycoon to work at home, but there are some important guidelines for you to follow if you want success and to feel good about your work and yourself.
When you're home all day, if you're not careful you'll end up in recluse attire! You know, your pajamas. God knows they're comfortable and cozy and if you don't have some style boundaries, you could hang out in them for days. That's probably what's happened when you see an adult in the grocery store in pajamas. Just remember, this person could be contributing to that $427 billion dollars!
Actually working at home as a full-time caregiver or an at-home entrepreneur or both, you actually need a wardrobe that changes during the day. Before you panic, the changes are simple, and will save you time, money and peace of mind in the long run.
1. Pajamas are for sleeping.
Dress in your jammies right before bed as part of your before bed routine. In the morning, get dressed for the next activity which might be exercise, housework, office work, yard work depending on your daily schedule. When you work at home, if you stay in your nightwear, you invariably have that somebody-might-come-over monkey on your shoulder. For your peace of mind, get dressed first thing in the morning.