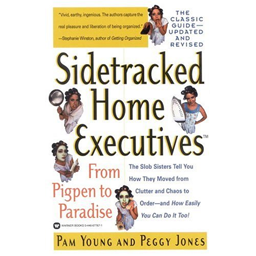 My blog took a typical, SHE (Sidetracked Home Executive) turn with an email from a Flybaby and it prompted me to find a very funny article written by a columnist for the Seattle Times who in turn went on to become a very famous food critic in the Northwest. His article gives you the man's view of a SHE. The article follows this email.
I have all your books and I especially love Sidetracked Home Executives because it touched the very depth of my SHE heart!
Within the first chapter, I KNEW you knew me. You weren't a couple of organizer people telling me what was wrong with me you were telling me what was right with me! Whenever I need to lighten up and stop beating myself up over something I "shoulda" done, I re-read the SHE book and it makes me put everything in perspective. It's worn, underlined, dog-eared and loved! Your system worked so well when the kids were home because 3x5 cards were such a great way to delegate. I now use Flylady's control journal for my home and personal stuff, but I still use your card file system for my in-home business because I have two part-time employees and they like having the 3x5 cards and it's easy for me to delegate.
I have been FLYING for four years and it's because Flylady took over where you left off with her love and compassion for SHEs everywhere. I'd like to shout it from the rooftop for all Flybabies to read the SHE book to discover the seamless way the torch has been passed.
Here's my letter to Barb,
Thank you for taking the time to write to me. I love hearing from SHEs like you because it just confirms to me that we are one huge, happy family, loving our homes and loving order, but careful not to take life too seriously. I purposely approached getting organized with a sense of humor and joy and that book was the first book on the market written from a reformed "slob's" point of view. (Remember SLOB stands for Spontaneous, Lighthearted, Optimistic and Beloved.)
Love,
Pam
Here's the article, written by John Hinterberger Seattle Times.