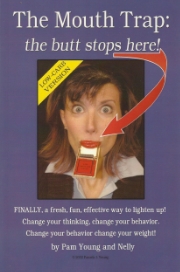 It's been years since Terry and I decided to drastically reduce carbohydrates from our life. It was so FUN (even though I thought it'd be hard!) that I just had to write a book about what happened to us as we totally changed the way we eat and have never gone back to counting calories. In this video I'm reading an excerpt from "The Mouth Trap: the butt stops here!"
I hope what I discovered resonates with you. We live in such miraculous bodies and they go all out to move us around our world whether we weigh what we weighed in high school or what we've collected over the years. This chapter deals with the realization of how heavy just five pounds is.
When you order "The Mouth Trap:the butt stops here!" audio CD set, I'll give you the printed book too as my gift. (You won't see those words when you go to order, but I'll be watching as orders come in and I'll make sure you get the printed book with the Audio CD set.