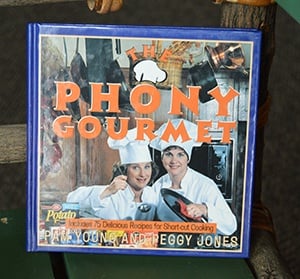 Edible "Indoor" Snowman
This is the perfect time of year to serve this hors d'oeuvres at your next party. Imagine a snowman standing more than a foot tall, on a platter surrounded by fresh veggies, crisp crackers and salami. Guests will wonder what they're supposed to do with him, until they dip into his luscious "snow" or cut into him for a chunk of his insides. Then they'll keep returning for more, until the poor snowman is left looking like his brothers Frosty or Olaf on a warm day.
Here's the recipe which is just one of 75 recipes in The Phony Gourmet, which is now 75% off at a clearance price of $5 plus postage and handling. This hardback cookbook originally sold for $15. Just click on the cover of the cookbook and it'll take you to it.
Cream Cheese and Garlic Snowman
Serves 15 party animals