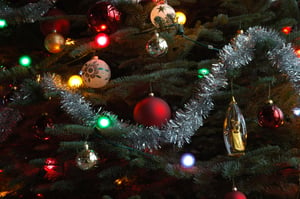 Here are some ideas to create Christmas traditions that'll turn into family memories you'll cherish for the rest of your lives. But before we get into them watch this video we produced last week and you'll see a great example of families creating a Christmas memory.
Think back when you were young. What are your happiest Christmas memories? Here are some of mine.

1. Go to a second-hand store and find the stupidest, funniest, ugliest or outrageous item, wrap it and give it to a member of your family with a note sealed in an envelope that reads, "Merry Christmas, please save this gift with your decorations when you put all your Christmas stuff away, and next year circulate it by sending it to another member of the family or back to me."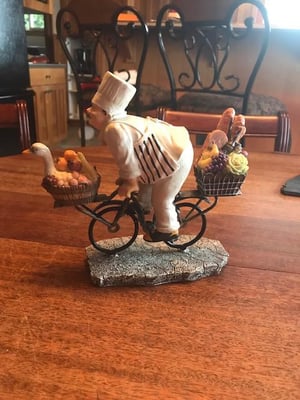 We've been circulating this figurine for at least ten years and it's fun to see it reappear every year. I ended up with it this year and it's time to give it to Michael. I won't be there to see them laugh as they remember it, but I personally get a laugh every time I look at it and it'll be so fun to mail it and imagine him opening it.

2. Wrap a mystery present and hang it in a very visible place. Tell anyone who comes in your house that if they guess what's in the present, they get it. My mom did that every year and it was fun to try to guess what it was. I remember guessing what it was one year, but what's funny is I don't remember what the contents were, I just remember I won.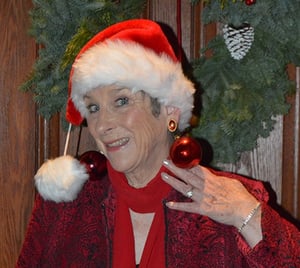 3. Attach Christmas tree bulbs to a pair of your earrings for a very festive look. Santa hats are also a must to have during the season, just like having extra pairs of noses and glasses at Halloween.

4. As a family take an evening to watch "It's a Wonderful Life." It's the best Christmas movie to steer you in the direction of what this holy season is all about. Pop popcorn and make homemade ice cream.

5. As a family, choose a person you see as a hard worker, maybe it's a waitress with a large family, a teller who is a single mom, someone you admire for his or her work ethic and give the person a gift anonymously. You could have a friend swear to keep your secret to deliver the gift saying something like: this is from a family in town that wanted you to have this and they want to remain anonymous.

6. Go to your favorite restaurant in town and buy a bunch of gift certificates for lunch, put in an envelope and mail to the police station with no return address. You could do that for the firemen also. Every 9/11 we buy nine $11 gift certificates to a local cafe in town and leave it anonymously, but it's a great idea for Christmas too.
I'd love, love love to hear some of your traditions and I'll be sure to share them throughout this holy season.
If you're an avid audio booker, three of my books are available to listen to (I recorded them); "The Sidetracked Sister's Happiness File," "The GOOD Book: Get Out Of Debt" and "The Mouth
Trap: the butt stops here!" Click on the book of your choice to order.

Merry Christmas!
Pam