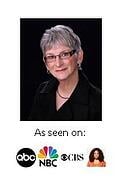 Oh those magazines can trip us SHEs (Sidetracked Home Executives) up!
Their glossy pages taunt us and make us want the impossible.
Although this song I wrote and am sharring with you, does exaggerate a bit, it's very close to what can happen if we're not careful.
I hope you'll excuse Nelly's voice; she didn't warm up before she sang.
Have a very unmagazine, but happy Christmas!
Love,