The Cheddar Family is the mouse family that lives in our home.
Merry Christmas from the Cheddar family! We hope your year has been blessed with good times, good food, great friends and lots of love and fun.
Our family has grown and it's always such a blessing to celebrate new life, (way too much life to write about in our Christmas letter).
I gave my husband Colby a cellphone for his birthday in April and he loves the video camera that's on it! He's really gotten good at videotaping Terry and Pam, the humans we share our home with. These two are crazy and now we have tangible proof because of the camera!
Before I share the highlight of our year, I want you to know, no one was injured. When I tell you what they did you could be shaking your head and stressing over what happened. Anyway Colby has a video for you, so I'll let it show you what happened!
It all started with Pam's desire to have a 16 foot Noble Fir, Christmas tree (the ones with the spaces between the branches). One day last week, her friend Joy told her about her friend who has a tree farm with really, really tall Noble Firs that have the spaces between the branches. She said the tree farm sort of got away from him and now the trees are way too tall for the average home. In fact the trees are twenty years old so they're all at least 25 feet tall!
Trees are like humans. The ones humans buy from the Boy Scouts are about five to nine years old. A ten foot tree is like a thirteen-year-old and in those teen years following, it has a growth spurt to rival what must have happened to Shaquille O'Neal.Terry said his ceiling was 22 feet so they could easily accommodate a 16 footer and they'd just cut off as much base as they'd need to in order to have a 16 foot tree in the living room. Pam was excited by the prospect.
We had no idea what an adventure we were all about to dip our Christmas toes in!
Kristi,their daughter, was out here from Boston and her best friend Julie from high school, came up from Sacramento for a few days to play with Kristi while she was with them. Terry and Pam got the idea to take them to get their tree and they both jumped at the idea. So did we! We bundled everyone up and made our way to their truck where we have several cozy nests.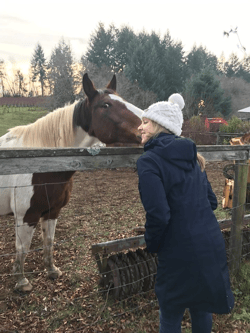 It was a beautiful, brisk, winter afternoon and as we wound through the thick forest from the main road on the long driveway to the farm we decided we'd get out of the truck and sneak along to video them cutting the tree. We were greeted by frisky horses and a quartet of "welcoming" dogs. Kristi must love horses and for a while they commanded her attention, until it was time to walk up the hill to the neglected tree farm.
We learned that Jeff, the owner doesn't want to sell Christmas trees and that's why he hasn't since he planted them 20 years ago. But since his friend Joy told Pam and Terry about him and his trees, he felt obligated. In spite of the obligatory nature of the transaction, Jeff was gracious and enthusiastic about taking them up into the hills to the tree farm part of his 160 acres (which are mostly panted in blue berries). It was hard to keep up with them, but we're really in shape this year.
Picking out a tree wasn't as easy as it would be on a ten-year-old crop at a tree farm. This crop had created a dense forest that would require a compass if the buyer were to venture deeply into the choices. Jeff left them to shop and went back to the barn to get his ATV, to carry their choice back to their waiting pickup. You'll see the tree they picked in the video Colby shot.
Jeff wouldn't take money for the tree, but said he'd appreciate a good bottle of Scotch. They thanked him and returned home with their evergreen treasure. Knowing they still had to cut some off the butt of the tree, Terry got the measuring tape out. They took the tree through the front door and the rest is history and videotaped.
The video starts with Terry, Pam Kristi and Julie raising the tree into its stand and discovering their ceilings aren't 22 feet like they thought, but rather the highest point is 18 feet. They also put the tree on a stage that's one foot high. In other words, a 16 foot tree on a one foot stage puts the top of the tree one foot from the ceiling...but wait! The angel (which they cleverly put on the tree before they raised it put another foot on the Christmas production. Humans!
So here's the video, we hope you all have a Merry Christmas!