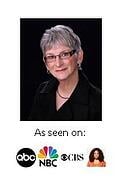 What better way to start your day than with a bacon and egg breakfast.
In this video I show you how to fry bacon and I give my delicious concoction to take the place of hash browns because they're so high in carbohydrates.
Once you've tasted my onion hash browns, you really won't want to have hash browns made from potatoes. Especially because potatoes are LOADED with carbs. If you did nothing more than cut out ALL potatoes you would start losing weight.
Onion Hash Browns
1 sweet onion cut in thin slices
1 tbsp. coconut oil
1 / 4 cup parmesan cheese
1 / 4 cup almond meal (also known as almond flour)
1 /4 tsp. Lawry's Seasoned Salt
On medium high heat, fry sliced onion in coconut oil until golden brown. Add cheese and almond meal and continue frying until the cheese melts and also turns golden brown.
Love,

P.S. If you are really serious about losing weight you must read my book, The Mouth Trap: the butt stops here.
It is an entirely new approach to losing weight. If you follow it you WILL lose weight and keep it off where you probably have failed in the past.