Very frequently I hear from SHEs (Sidetracked Home Executive) lamenting that they wish they'd used the SHE 3x5 get organized system for home and family earlier. My answer is always the same, you weren't ready and until you're ready you won't use it. It's interesting to find out how much these precious women have achieved in spite of their disorder! It's testimony to how talented we SHEs really are. Here's an excerpt from "The Joy of Being Disorganized" that conveys this thought.
Recognizing the Benefits of Being Disorganized
Most disorganized people are easygoing. We can stop what we're doing and play with the puppy, spend time with friends, play with our children, or just sit and watch the breeze blowing through the trees. We're never too busy that we miss the changes in seasons and the delights in nature. We're not workaholics. Novelist George MacDonald, who inspired many of his contemporary writers like Lewis Carol, J.R.R.Tolkien, and C.S. Lewis, said, "Work is not always required . . . there is such a thing as sacred idleness, the cultivation of which is now fearfully neglected." I love any writer who encourages me to embrace sacred idleness. Not all the time, of course, but enough to enjoy life. Give thanks for the way you are and that you can partake of sacred idleness too. It's an amazing gift!
By recognizing the gift of sacred idleness, my sister (who was also a SLOB) and I managed to get organized just enough to get by. We were the first SLOBs to tell the world about our escape from chaos in our best-selling book Sidetracked Home Executives: from pigpen to paradise. The book has sold more than a million and a half copies and is still in bookstores after 40 years. (Actually, since most of our readers are disorganized, I'm guessing that most of them purchased it, lost it, and had to go buy it again.) Because of that bestselling book, my sister and I got to crisscross the country, appearing on television and radio. We even had our own television show on Christian Broadcasting called Cleaning Up Your Act. During that time, I was privileged to meet many stars, including Oprah Winfrey and Katie Couric. These two successful women shocked me when they both confessed to me how extremely disorganized they were. Katie pulled me aside before we were going on The Today Show and told me about borrowing a coat from a friend and returning it with a chicken bone in the pocket. (More on that ditty later.) Oprah also had slobbish tendencies which shocked me. By looking at these successful women and the empires they built, I never would have guessed they were SLOBs like me.
I received an email today that prompted me to write this blog. I'd like to share it with you.
Hi Pam!
Have loved yours and Peggy's stuff for years!!! I first saw you two on a talk show where you talked about not feeling like making stuffing for Thanksgiving turkey so instead you put a Cornish game hen in cavity! Still chuckle about that and the next thing you said – that yes, it worked very well…the only problem being that it lead to a discussion on child birth…genius!
I am a 63 year lawyer who is bombarded with recommendations for getting, and staying, organized. Nothing I have encountered is nearly as ingenious as your programs – and so much fun. You and Peggy first and now you on your own are brilliant and I'm not saying that to stroke your ego but because it is fact. Like so many others, my only regret is that I did not discover your organizational program until now. Why is this not taught in every high school in the nation? Just sayin'…..
Loved your prediction for sales of one of your books that you expected to double your sales because people buying them are so disorganized they would lose them first time around. Am in process of getting myself together and have been getting everything of yours that I can (looked for your 3x5 templates for at least a month). I reached the end of my rope around Christmas when I was overwhelmed and could not find my scissors. I love them and they were nowhere to be found. We have had a snowy winter here in Northern Michigan. It was not until last week when snow started melting that I found them – stuck to the hood of my car!
Thank you for all that you do. You and Peggy are/were wonderful!
Cathy
Cathy went on in another email to say she'd like to hear about other's "scissors stuck to the car" stories and she wanted to know if I had one. I told her mine was when my first husband drove to work with a king-sized fitted sheet attached to the bumper of the car. When I told my sister about what happened she said, "You oughta write that into Tide and say, 'My husband dragged a king-sized fitted sheet through morning traffic. I washed it in Tide and it come clean!'"
I'd love to hear your story! Write me and we might just get it into a collection of scissor and sheet stories.
Oh, here's a blog about the benefits of being disorganized. Just click on the very hot cat.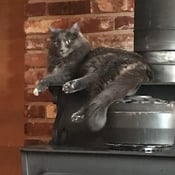 If you want to get organized just enough to please you and you'd like to see how the 3x5 system works, I recommend "The Joy of Being Disorganized." Just tap on the cover.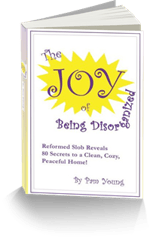 Love,