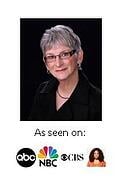 Last week I ran the video on how to cut up a whole chicken and I received a lot of mail wanting to know the recipe for chicken salad which I spoke about on the video. So here's the video on how to make yummy chicken salad, along with the recipe!
Enjoy!
Chicken Salad
After you've cooked the carcass of the boned chicken, take remaining chicken meat off the bones. (about two cups of meat)
1 TBSP. fresh parsley chopped
3/4 cup chopped onion
3/4 cup celery chopped
3/4 cup Bubbies Dill Pickles chopped
3/4 cup mayonnaise
1 tsp. lemon juice
1 tsp. Lawry's Seasoned Salt
Fresh ground pepper
Mix all ingredients and serve on romaine lettuce leaves as a low-carb sandwich wrap. NO BREAD. Bread is loaded with carbs.
If you've been reading about all the health benefits of cutting the amount of carbs in your diet, check out my book The Mouth Trap: the butt stops here!
Love,