In this video, which my husband Terry produced for a local ABC affiliate in Portland, Oregon, we took video cameras out in the field to find the spirit of Christmas. It was a spiritual trek and we found the perfect place. It's almost a promise, if you have one of these places near you, you'll find the spirit of Christmas too. This clip will get that Christmas glow flowing through you, so please take some time to enjoy.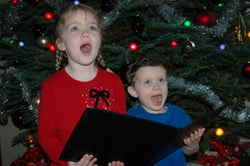 It's beginning to look a lot like Christmas, everywhere you go and it's the most wonderful time of the year, but so often we douse our joy by over-goaling and then we're just walking stress machines, missing the true meaning of Christmas.
Experiencing the wonder and excitement of the holidays can escape us when we have too much to do, but that'll change when you listen to this two-hour timely talk from Peggy and me about enjoying a stress-free Christmas.
This is a great time to keep your perspective as you take another sleigh ride through to the new year.
Love,