If you are serious about reducing the amount of sugar you and your family eats, Halloween candy can present a big problem. We know that sugar isn't good for us and most of us eat too much of it, but the candy push is in full swing and dog dang gone it, trick-or-treating is FUN.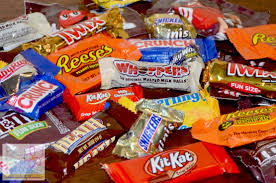 In this DIY video clip, you'll find a solution to that huge influx of candy that'll be coming into your home on Halloween night.
Our granddaughter Kaytee proudly demonstrates her abilities as a contractor. With the help of her staff (her two older brothers) she shows us how to create a magical gingerbread house using that stash of Halloween candy that'll be saved from going into your children's tummies.
Watch this fun video.
Finally, a way to use that excess candy for decoration not indigestion.
If you'd like to get on the sugar-free path, my book The Mouth Trap: the butt stops here! is a great starting place. You'll meet the real culprit behind that extra weight you're carrying (the part of you that has a sweet tooth).
Love,

..