Happy Easter! May you truly enjoy the magic of this holy time.
This is a delicious, company breakfast dish that's so easy to make ahead so you won't have to get up extra early in the morning to fix your Easter guests' breakfast. So please enjoy this short cooking video.
You'll probably notice I don't tell you what temperature to have the oven. 400 degrees is good.
Love,

If you want some great short-cut recipes, I recommend The Phony Gourmet. It's in my cleanrance store and it's 75% off! Here's a link to get that cookbook. Just click on the cover.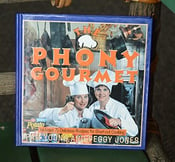 Thanks for reporting a problem. We'll attach technical data about this session to help us figure out the issue. Which of these best describes the problem?
Any other details or context?
message