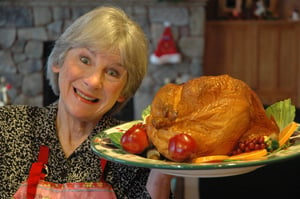 Blessings to you and your family from my house to yours.
As you come into this holiday season, let the spirit of the season bite you right where it'll get your attention…your heart. Right now, instead of fussing about all the stuff you have to do, focus on what makes you want to fuss with the stuff in the first place. It's love. Love of your family and friends, love of the traditions you have that have survived every year of your life. God knows what you love and just as you delight in a desire to give to your children to delight them, God loves to give to us to delight us. The ironic thing about that is, what we really want is to feel good and that choice is being offered to us every second.
I was at The Dollar Tree yesterday and I ran into a mom with an infant in a stroller being guarded by her four-year-old. We got to talking and I said, "Do you love this time of year, being able to know what your kids love and want for Christmas and then being able to be the one who can see those wishes come true?" She literally lit up with the question and her answer shot goose bumps all over me. It was like we were in this beautiful zone of positive energy.
"OH YES I LOVE THIS TIME OF YEAR! I have five children and, even though we don't have a lot of money, I'm so thankful I can stay at home for my kids and my husband. Yeah, I shop at Dollar Tree and Goodwill a lot, but you know, it doesn't take money to make the holidays special, it takes time every day talking, laughing and playing with each other and there is just something in the air this time of year that makes that easier to do."
Her little speech made me think about the news story I saw the other day about an anonymous man who paid off all the lay-away items at a Walmart in Vermont. I told the woman that in that story, Julie Ann Gates a woman who actually talked to the man was one of the lucky customers inside the Derby, Vermont, store who received the man's generosity, and couldn't believe what she was seeing. She said, "I just can't put into words how much that man has done for so many people. He is the true meaning of Christmas."
My story made this mom think of what happened to her sister at Costco one Christmas. She had a whole cart filled with food and gifts, mostly toys for her children and a man in front of her told the clerk he was going to pay for her entire bill and he did. When she went to pay, the clerk said, "It's taken care of."
In this holiday season let's look for ways to anonymously saturate our community with the true meaning of Christmas. Let's also tip more, compliment more, laugh more, thank more, sing more, dance more, and love more.
Thank you everyone for reading my blog buying my books and being a part of my life. You inspire me to have fun and enjoy life.