Saved from the Zone
There's a lot written about getting into "the zone," but little about how to get out of it. This is an interesting story about a very successful and famous artist who spends most of his time in the zone and it inspired me to write about how he gets out of the zone.
There's a bronze sculptor in Eastern Oregon named David Manuel. My husband has been his official videographer for more than 20 years and we've gotten to know the whole family as David has become world renowned for his bronzes. This is one in our collection.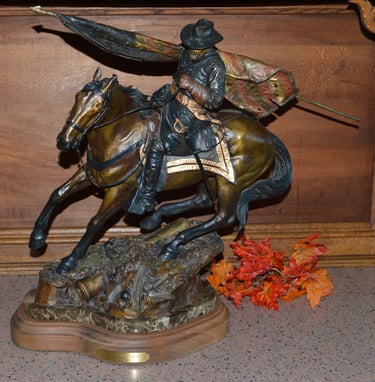 On this visit, we were there to video an historic event, which I'll tell you about later.
I've had the honor of being able to watch David work on his masterpieces over the years. While my husband would be out and about filming something for the Manuel's marketing program, David would let me watch him whenever I wanted to. During this visit, he was working on the front leg of a horse (knee area). (Do horses have knees?)(Don't have time to Google.) Where was I? Oh, yeah, David told me he's such a perfectionist that he could work on one piece into forever. He said that Lee, his wife, has to take pieces away so he can move on.
That's a lesson we can learn. Since we don't have Lee to say, "Enough already!" we need a timer to jerk us out of one of those zones (that we love to be in by the way). We SHEs (Sidetracked Home Executives) are just like artists when it comes to hyper-focusing. We get into that glorious zone and time flies while we're in there, and before we know it we've turned five (of the 55, dull, stained, bathroom, shower tiles), into shiny squares that look brand new and it only took two hours! A timer can save you from the zone when you need to be.
Thirteen years ago, David and Lee bought the land and building known as Hot Lake Hotel (also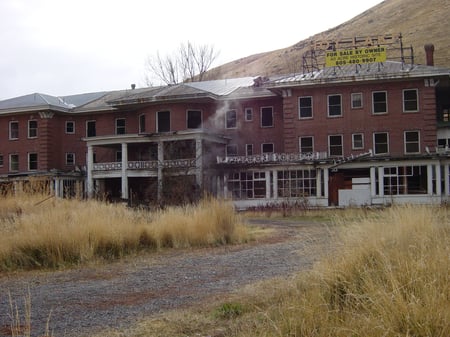 known as Hot Lake Resort) in eastern Oregon. It was their dream to restore the building to its original glory and create an historical place for David's gallery and incredible, interpretive museum, while making a peaceful and artist-inspiring place for him to work his magic with clay. Sounds exciting, doesn't it? But wait! If you could have been there with us, and seen the horrible condition of the buildings and property, you would have said, "NO, don't let them do this!"
The hotel and resort was originally built in 1864. It's located in Union County, Oregon. The hotel received its namesake from the thermal spring lakes on the property, and operated as a luxury resort and sanatorium (hospital) during the turn of the century, advertising the medicinal attributes of the mineral water and drawing visitors worldwide. It was also the first known commercial building in the world to utilize geothermal energy as the primary heat source.
After a fire burned down over half of the hotel in 1934, the remaining building was used for various purposes, including a retirement home, asylum, and a nurse's training school during World War ll. After that, operations were intermittent under various owners before the building's abandonment in 1991. The hotel is on the National Register of Historic Places.
Hot Lake touts the most mineral dense hot water on earth. It used to be known as the Mayo Clinic of the West and saw its heyday in the early 1900s with people coming from all over the country to bathe in the healing waters and stay in the luxurious hotel. But before that, Hot Lake was the gathering place of American Indians who would come together in peace to soak and heal.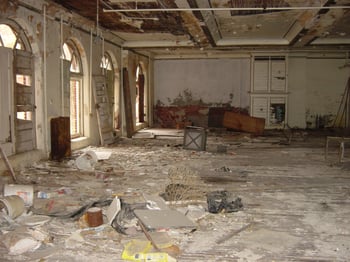 When the Manuel's bought the property, 13 years ago, the hulking building was uninhabitable. We were there with them and a crew of architectural engineers who conducted a thorough inspection, with our cameras rolling. The 60,000 square foot building with about 350 windows had only four windows intact! Owls and pigeons flew freely and had nests built in many rooms and when we went under the building, the cameras caught eyes I just know were rattle snake eyes. The structure of the building was sound, which at the time seemed like the only good news.
Today, after 13 years of extreme, hard labor, Hot Lake has been transformed. But the Manuels are selling the property and we were there to film the continuation of the history of Hot Lake. For three days we were surrounded by media, legislators, and wealthy businessmen and women who were brought together for the breaking news.
Hot Lake is going to be a restorative retreat center for our combat veterans (remember the healing waters), while it houses a training facility for practitioners of holistic, natural medicine and there's more. Hot Lake is going to raise 5 million pounds of fish a year to help feed the region and beyond. (That's another story!)
Can you imagine the feat Lee Manuel accomplished bringing these three entities together? The combination couldn't be more divine! Together they'll create a place to heal our combat veterans, using natural medicine and healing mineral waters and raise fish to feed millions.
At one point, after the press had gone, and everyone had left the building, I sat alone in the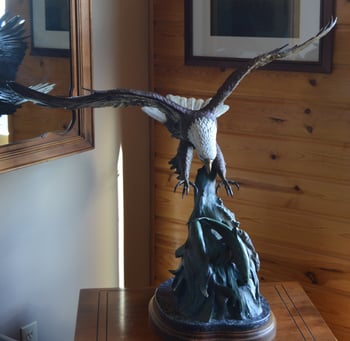 Manuel's immense gallery, displaying some of the most beautiful art I've ever seen, and I remembered that just a few hours before, hundreds of people were milling around in the gallery, excited about this historic event, and it struck me, that the only reason anyone had been part of this occasion, goes back to David's genius. Underneath the glitz of all the lights, cameras, microphones, and dignitaries in fancy clothes, there sits a quiet man, alone in his studio, happily working his genius from morning to night. I thought back about the three days we were there, and every time I'd peek into David's studio, he was still working on that horse's knee! Without that focus, Hot Lake would probably still remain abandoned.
You are a creative and when you get into your "heavenly" zone, whether you're cleaning bathroom tiles, playing with your children, or creating a masterpiece, enjoy your zone time, but have ways out because you do live in the world too.
To read my blog about being creative and disorganized, just click on David's eagle.
Love,

PS I do write for food. If you are a creative and you like my writing, I recommend this book. Just tap on the cover for more information.