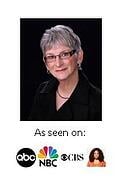 Glove up--It's chicken surgery time in the kitchen! Dr. Young's operating room is ready and she'll show you how easy and fun it is to take a whole chicken and cut it up yourself.
In chapter eight of her book, The Joy of Being Disorganized, she talks about an overachiever named Janine who couldn't say no to people and went overboard in Martha Stewart-like fashion. Don't worry---cutting up your own chicken is not going to throw you in the crazy cook follies. It's a handy way to save lots of money and gives you the bonus of making delicious and nutritious bone broth to help take the chill off those frosty winter nights. Watch this video to learn how!
Since this cooking segment has you saving money and eating healthy with low carb food here is an offer for you!
Love,