Let Them Eat Fat!!!
"Fill 'em with fat, right off the bat!" That's my motto for kids healthy eating. Yep, you read that right! Now before you all go running to report me to the first lady, let me explain a little. If your kids are like mine were. they're hungry all the time, and nothing seems to stop the little munchkins from rummaging around the kitchen like homeless guys in the park. Round and round they go pulling open drawers, cabinets, oven doors; you name it, searching for something to eat. Not even the dog dish is safe.
Well, as you might guess, it's low carb cooking to the rescue. You see, it's fat that stays with your body and gives you the kind of energy that lasts.....through the tree climbing, sprinkler jumping, roller skating days of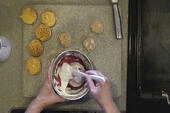 summer fun. You'll love this easy, healthy snack that's better than ice cream and fun to make too. Guaranteed to shut up your craving for junk food!
In this video, I show you how to makes a snack for your snuggle bunnies that will stop the scrounging for something to eat.
Recipe:
Make a batch of low-carb rounds
2 cups almond flour
2 tbsp. coconut flour
2 eggs
one quarter cup butter
1 cup unsweetened almond milk
Fry in half tsp. coconut oil on medium high heat as you would pancakes, making circles the size of an Oreo Cookie.
Filling:
1 part peanut butter
1 part coconut oil
Beat thoroughly. Refrigerate to firm up just a little and roll into a roll. Wrap in plastic wrap and refrigerate until very firm; about an hour. Slice into circles and place between low-carb rounds. Serve immediately or refrigerate until serving.
Filling:
1 cup whipping cream
2 Tbsps. fresh berry juice (refrigerated)
Whip heavy whipping cream until stiff. Add berry juice from fresh berries. Dollop onto a cookie sheet and freeze. Place frozen dollops between low-carb rounds. Serve immediately or freeze for future.
If you're leaning toward a Paleo lifestyle, The Mouth Trap: the butt stops here! is a fun and informative book I wrote, giving you creative ways to dump those fat-making carbs. I've lived this lifestyle for almost four years and I'd never go back to the low fat, count-your calories, weight-loss diets of my past.