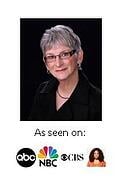 Just imagine there's a fun-loving part of you (a child-like slice) that waits for opportunities to get the adult chunk of you to remember something from your past.
Have you ever had the sensation of awe that invades your moment when you smell smoke from a wood fire, or had the feeling of joy come over you when it snows for the first time in winter or had the sense of excitement or sadness for no reason except for the sound of a train whistle?
In trying to explain your inner child, and there is a part of you that will never grow up, words from a brilliant songwriter, Craig Carnelia will help. His song entitled The Kid Inside, is a reflection of a man's inner child and the words speak for themselves. If you're inclined, you can go on YouTube and sing along with Barry Manilow.
There's a Kid Inside
And I have him with me always.
There's a kid inside,
Walking down old high school hallways.
Where's a kid inside,
At a desk, at a dance, in the halls, in the showers.
There's a kid inside to this very day.
And he makes a try for that high pop fly,
That I fumbled one September.
And he makes a fuss over some A plus,
That I shouldn't still remember.
And he goes along,
Getting hurt, getting mad, fighting fights that are over.
And unless I'm strong,
All my senses are carried away.
I can feel my hand, my trembling hand,
On Michelle's angora sweater.
I can hear my band, that awful band,
Only now it sounds much better.
I can see the kid, the kid I use to be,
On the stage, on the field, on the lunch line.
I can feel him tugging at me,
Every time I think I don't care I blink,
And he's there, he's there again.
Fighting ancient wrongs,
Humming old hit songs in my head.
Singing come along, come along,
Come along for the ride.
To a time and place,
I could not forget if I tried.
And I never know, when the breeze'll blow,
With a rush of old sensation.
Why the kid should wake,
And my heart should ache,
Every time I smell carnations.
Something rings the bell,
Anything at all,
All it takes is a slam of a locker.
Or the switch from summer or fall,
A change of season seems barely reason,
But there he goes, he's there again.
For the next five Fridays I'll be sharing a mini video-series on getting to know and understand that kid inside. I truly believe that getting a handle on that child is the key to succeeding in changing any unwanted behavior. I've even heard from a woman who has been sober for ten years because of AA and getting to know her inner child by reading my get organized books on the subject.
The videos are short but they offer much food for thought.
Be watching next Friday for my first one.
Love,