This time of year church foyers offer tables of free produce brought in by Christian gardener's wanting to share the abundance of nature's bounty. One ubiquitous vegetable on those church tables is the GIANT ZUCCHINI.
It's not that gardeners let these grow to the size of dachshunds on purpose, rather it's usually an accident perpetrated by a beginner gardener. (Have you ever noticed zucchini has camouflage skin so it can hide under their big leaves?) Many a gardener has shared with me her horror upon discovering a giant, green, squash monster suddenly exposed by hoeing. The woman holding this one is Missila and she has a YouTube video you might like to watch. Just click on her, but please come back to my blog because you're going to learn a lot!
There are no warning labels on zucchini seed packages and there should be! In fact they should read:
WARNING!!! Eternity is the attempt to consume the zucchini that will come from this package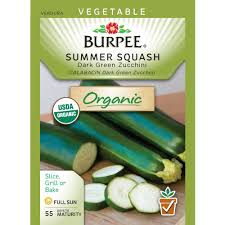 of seeds. Be prepared to lose friends, seek counseling over guilt of wastefulness, and become bored over the endless zucchini meals you'll be compelled to make.
When you live in a country community, you're surrounded by gardeners and commerce does everything it can to market to them. Merry-go-rounds of seed packets sprout up right after New Year's, sales on garden tools pop up in early spring, live, hot house plants lure the green thumbers off their property just in time to plant for summer's sun. A zucchini plant looks innocent in its little ¼ cup-sized container, just remember it's deceiving.
Seasoned gardeners tend to avoid planting zucchini like gigolos avoid lurking around trailer parks. It's the first-time gardener, thrilled at the innocent prospect of taking part in an organic dance with vegetables from her garden to table, that is stunned by the shameless obesity of a bloated zucchini.
Often these wanna be gardeners are disorganized and don't realize gardening requires a chore chart of daily, weekly, and monthly duties (mostly daily!). My advice as a reformed slob turned professional organizer is: if you don't do well with caring for houseplants forget about a garden and be very nice to your friends who have gardens so you can get free produce.
So the cry, this time of year, from folks in rural communities is, "Lock your cars! It's zucchini time!" Quite frankly it can be a scary time of year for the many gardeners who choose to plant it. I'm not a gardener. God knows I've tried. Just click on Jacob and McKenzie (two of my grandchildren who are now adults) hauling in their pumpkin pick (not from my garden). You'll see that I learned a trick for getting produce when your garden fails.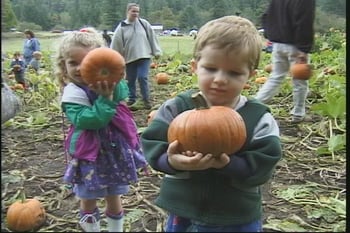 Inevitably during the harvest season the question pops up, WHAT CAN WE DO WITH THESE GIANT SQUASH? After all there are starving children in America.
There's a glut of recipes for zucchini of all sizes. I've heard from more than one really good cook, that there's not a difference in the taste of a big verses a little zucchini.
Rather than add to the glut of recipes (okay I'll share one) I've thought up some ways to use those big ones for other than eating.
1, Food container with lid for taking a dish to the church potluck.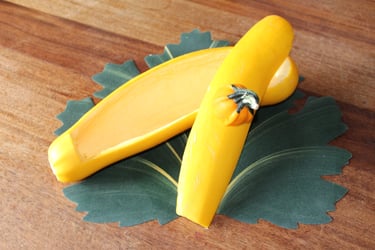 Cut a side lengthwise out of the resting zucchini, being careful to keep the piece intact. (This piece will be your lid.) Gut the squash of its seeds using an ice cream scoop. Gut the meat out using a melon baller. Save the meat after absorbing moisture with paper towels. Freeze for use in one of the kazillion recipes out there.
Pry the stem off the end and with a toothpick or two attach it as a handle for the lid.
2, Hostess Gift. Cut the butt end off about seven inches. Gut making a bowl. Fill with potting soil and plant a small plant (basil is a great gift for the hostess who loves to cook). Recipient can keep it in her kitchen or if you plant an outdoor perennial she can plant it (squash container and all) after it's through blooming.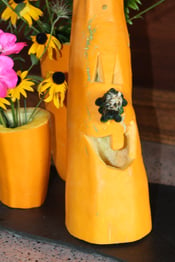 3. Skinny Jack-O-Lantern Use an orange zucchini to match the pumpkin jack-o-
lanterns. It's very funny to see a plump pumpkin next to a tall and skinny zucchini.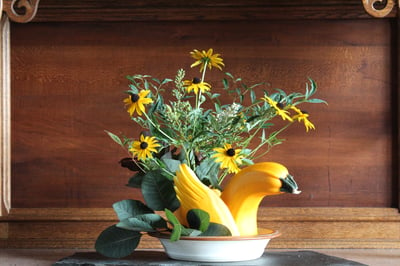 4. Centerpiece If you happen to have a zucchini that's curved, it'll make a very nice swan centerpiece.
5. Canoe In the same way you cut a lid out of a zucchini lengthwise to make a serving dish, this time just use the bottom and gut it. Fill it with food for birds and fish and send it off down a river or creek.
6. Vase You can make various sizes of vases depending on how far from the end you cut. When I made a zucchini jack-o-lantern, I just used the top half after I made a vase with the lower half. The vase holds water and the center makes it easy to arrange a group of flowers.
PEGGY GRODINSKY wrote a delightful article entitled "Alone in the kitchen with a (very, very, VERY large) zucchini" and in it she said, "One generous, giving and this much maligned vegetable provisioned me in sweets and savory food, breakfast and dinner, side dishes, beverages, condiments and main courses for an entire week. Not bad for a vegetable whose habit of bulking up has been the butt of kitchen and garden jokes for as long as I can remember. And probably a lot longer than that."
ROASTED AND SPICED ZUCCHINI SEEDS
The spicing is adapted from a Martha Stewart recipe for roasted pumpkin seeds. You need a large zucchini. The seeds of small zucchini are soft and juicy and will not work here.
Seeds from a giant zucchini
1/4 teaspoon ground ginger
1/4 teaspoon ground cinnamon
1/4 teaspoon ground cumin
Dash cayenne
Salt to taste (about half teaspoon)
1 tablespoon sugar, or more to taste
Extra-virgin olive oil
To remove the seeds from your giant zucchini, scrape out the fleshy, seed-riddled center portion of the vegetable with a melon baller. Separate the large, woody seeds from the flesh. Soak in a bowl of water for a few minutes to remove more of the flesh and strings. Bring salted water to a boil, add the seeds, simmer for 10 minutes, drain.
Preheat the oven to 250 F. Spread the drained (but still wet) seeds on a baking sheet. Bake them for about 15 minutes until they are somewhat dry.
Meanwhile, combine the spices, salt and sugar. When the seeds are no longer soaked, remove them from the oven.
Turn the oven up to 325 F. Drizzle – but don't douse – the seeds with olive oil to coat, sprinkle the seeds with the spice mixture (you may not need all of it) and mix thoroughly. Bake for about 15 minutes until the seeds are nice and toasty, stirring occasionally. Watch carefully as they can burn easily.
Remove from the oven and cool; they will get crispier as they cool. Store the treat in a sealed container (if you can manage not to snack on them all immediately).
GOOD NEWS!! "Sidetracked Home Executives: from pigpen to paradise" is now available on Kindle! It has been unavailable for several weeks due to some technical problems that had to be solved. My bonus son Eric (MIT grad, technical wizzard AND a wonderful man) has been fixing those problems for us and we just learned it's back on the market! Thank you Eric! To get your Kindle book, just click on the cover.