Hmmm, summertime and the livin' is easy......and so is this sumptuous berry dessert. Yep, I said
dessert
, even though we're committed to low carb cooking. Did you ever go berry picking as a kid? Well, as a grownup it's even more fun because you get to use your gathered gems to whip up my newest recipe for what I call Crumble. It's not a cobbler and it's not a pie, but it's something your family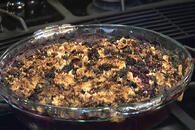 will absolutely drool over--and so much healthier too! The sweetness of sun ripened blackberries will bring back memories of lazy days, gentle breezes and blue skies that melt into blazing sunsets. Better make a double batch, this one goes fast!
Sit back, watch the video, then go pick some wild blackberries (if they live by you) and whip up this special treat!
Blackberry Crumble
Crust:
2 cups almond flour
2 Tbsp coconut flour
1 Tbsp Stevia
Dash of salt
One half cup coconut oil melted
Filling:
5 cups fresh blackberries
1 Tbsp Stevia
1 Tbsp coconut flour
1 Tbsp almond flour
Mix ingredients for crust (batter) and put half in a 9 inch pie pan
Mix berries with Stevia, coconut flour and almond flour and pour in pan over bottom crust

Drizzle remaining half of batter over top of berries. Bake in 400 degree oven for 40-45 minutes.
Think you "just have to have" sugar and carbs. Nope. No true. My book shows you how to stop poisoning yourself with sugar! YES, YOU CAN!!