A Magical Date Night
I pulled this blog out of my archives because as I read it, it inspired me to make date night special whenever I can. This particular night was in late summer and as I read about that night it melted the foggy, dreary, rainy day we have today and I hope it'll inspire plans in you for your next date.
Have you noticed that your married, women, friends who are organized, schedule a weekly date night? A weekly date is essential so you can remember why you married the guy in the first place. We're like computers and a date night is like re-booting and receiving updates.
If you don't schedule it, you won't do it and you know what happens to a computer that isn't rebooted regularly. It bogs down.
A Magical Night
Our son gave us a gift certificate to Andina, a restaurant in Portland,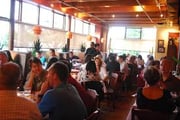 Oregon. We used it for our weekly date night.
Because we'd never heard of the place, we had no expectations. Turns out it's rated as the best restaurant in Portland! Since we didn't make reservations, we felt lucky to get a table for two even if it was in the bar and squished in between two other tables for two. The place was crowded and bursting with gaiety. The aroma of good food was pleasant torture as we salivated over dishes being brought to various tables around us as we tried to figure out the words on the big menu in Peruvian. There were descriptions of the dishes in English, but they didn't really help that much. I chose:
ATÚN CON TACU TACU Y AGUAYMANTO
Seared yellow tuna sprinkled with black pepper and orange zest, (I was tracking so far) served with traditional lima bean tacu tacu, (I had to ask our waiter what tacu tacu was and he said it was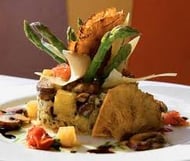 smooshed lima beans; no wonder they decided to go with the tacu tacu verbiage) orange wedges, endive spears and salsa criolla, (I figured the criolla part meant hot and spicy and I was delightfully right about that) drizzled with a cape gooseberry-ají amarillo sauce (I was impressed that the gooseberries came from some cape maybe Cod or Canaveral, and I was pretty sure Amarillo was a liqueur I remember liking in my liqueur drinking days). The tuna was scrumptious and the mashed up lima beans were close to addictive.
Terry had SECO A LA NORTEÑA an old family recipe (not his family's the restaurant owner's) lamb shank slow-cooked in the Northern Peruvian style, in a rich cilantro-black beer sauce, served with a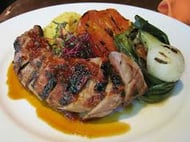 classic guiso de frijoles, garlic rice and salsa criolla. He ordered it because the woman next to him was eating it when we sat down and he asked her what it was. She told him and said it was delicious and she was so glad she'd ordered it after seeing it on the guy's plate next to her when she sat down.
The couple on one side of us was out on their first date since their baby was born. Joe and Beverly had left nine-month-old Ezekiel home with Grandma. Jo pulled out his cell phone and showed us photos of Ezekiel. He was adorable! I truly expected the young couple's names to be something like Bye Nu and Vu Ling because Joe is Korean and Beverly is Chinese. I've got to quit profiling, I should know better by now.
After the woman who inspired Terry's entre choice left, a nice couple from Dallas took her place. The guy was Norwegian and he asked Terry what he was eating and was inspired to order the SECO A LA NORTEÑA. Turned out there were five SECO A LA NORTEÑAs served in a row in the time we were there. I think it's because people are a little leery of fancy menus with words they don't understand and seeing food on a plate that looks delicious, helps.
The Norwegian man's name was Morten and his lovely wife was Debbie. Morten works for American Airlines and they had just flown to Portland on a whim. They told us they fell in love with the city and they asked us an interesting question. "What's the most extreme weather you have to endure in the Pacific Northwest?" We had to think about that, because we don't really experience extreme weather. We figured they were maybe thinking about Portland as a place to retire and we wanted to make sure they understood what they'd be in for.
If you ever come to Portland on a summer night, you could be tricked into thinking that's how it is all the time. That night we were there was a magical night, 72 degrees, light breeze, and lush green everywhere. But we North Westerners pay for that green and it's called rain, which comes in the form of drizzle, intermittent dripping showers that we slosh through, get soaked, sopped and drenched in for about six months out of the year. Oh, but do we ever appreciate a night like that night!
Thank you for reading my blog! Please share it with anyone you think might get out her calendar and plan a special night for that special person she promised to stay with forever.
If you don't subscribe to my blog, I hope you will. There's a place to put in your email address up at the top and to the right of this blog.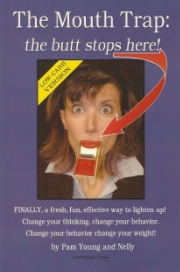 A reminder that I have a special offer going on while this product lasts. I'm closing out "The Mouth Trap: the butt stops here!" CD Audio package. So while I have them in stock, if you purchase the CDs I'll throw in the printed book for free! Just click on the cover to order. There is a limited supply, so order before they're gone.