Have you noticed the moles are out? I don't think they've heard about the pandemic because they're not practicing social distancing. I wouldn't expect a mole to wear a mask, but they could at least keep their holes six feet apart!
This video will show you how to take advantage of that lucious dirt in their hills. In case you didn't know, moles are carnivores and they dig where the soil is good and consequently where the worms are. If you have moles, it's a good sign! Use their work to save you money!
Here's the video! Plus my 4 Ps for a successful flower garden.
One you have a nice supply of potting soil, I suggest following my 4 Ps.
Plan~ Divide your yard into zones just like we've divided our homes. When you divide up a project into manageable parts you won't get overwhelmed. Figure out what you'd like to have brighten each zone and write down how many of each plant you want. It'll be like a grocery list. Don't plan another zone until you've finished planting one you've planned. I like to add at least one perennial each year (those are the plants that come back) in each of my zones.
Prepare~ Prepare the soil and even dig the holes before you head to the nursery.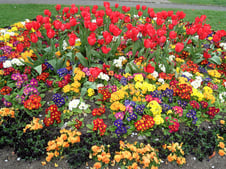 Purchase~ Take your list and limit what you buy to the amount of holes you've already dug. Don't be tempted while you're in the beauty of all the colors and fragrances. You don't have to stick to the exact kind of flowers on your list, just the number of plants.
Plant~ When you actually get to plant, you'll be so happy with yourself for doing all the hard work first. And you won't have the guilt that comes with unintentionally killing innocent life.