Wanting What Others Have Hurts You
"You have succeeded in life when all you really want is only what you really need." That quote is by Vernon Howard and he was probably never dazzled by brochures for fancy vacations or a catalogue from William Sonoma. We are continually tempted to buy what we don't need.
There was a recent ad on the Internet hawking the latest autumn purses (referred to as bags). It said in the email subject line: 9 Bags You Must Own This Fall. With suggestions like this, it's no wonder we can hardly move in our closets!
Really the only thing we need to buy regularly is food and gas. Vernon would not be happy with some of my purchases. Like this crab hat my granddaughter Sophia is wearing. What was I thinking? I know, 'I've gotta have it!'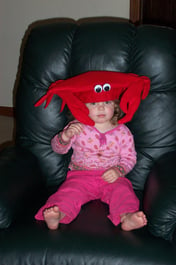 Vernon's quote resonates with SHEs (Sidetracked Home Executives) because we've experienced the clutter and resulting chaos that comes with not learning when enough is enough and being tempted by advertising. Yeah, we have duplicates of many items but that's only because we lose an item and have to buy another. And yeah, we have more babies than BOs (Born Organized) because we never pay much attention to a calendar.
There is great truth in Howard's quote and there's another angle to it that has to do with being successful at being organized. What do you really want when it comes to getting organized? You really need to know what you want if you want to succeed at it.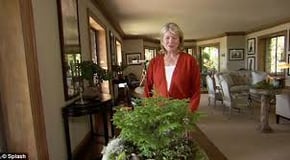 Do you want a home like Martha Stewart's or Flylady's? Or do you want a home that reflects your nature and the nature of your family? So often we see what others have and we want that, but that can get us into big trouble. I think another word for that is coveting.
5 Basic Needs
Survival

Love and belonging

Power

Freedom

Fun
If we only wanted what we need, our lives would look very different right now.
Our car would fit in the garage.
Our homes would be streamlined and clutter-free.
Our closets, cupboards and drawers would contain just what we love and use.
We'd have the freedom to play more and have fun with our family and friends.
We'd understand that we have personal power that's been given to us to use for the good of all concerned.
We'd have time to feel God's love for us and we'd begin to trust all processes. I love this quote by Mandy Hale, "What we are waiting for is not as important as what happens to us while we are waiting. Trust the process."
We have a tendency to want to follow, but each of you has an individual path that is perfect for you, and a guidance system that makes GPS primitive. In the Course in Miracles it says, "If you knew who was always beside you on the path you have chosen, you'd never be afraid." You are never alone and when you turn inward for guidance you don't need to follow the Flylady, the Slob Sisters, Kondo or whomever you've put up on a pedestal. You'll ultimately fail if you place your power to be successful in anyone's hands but yours.
To really succeed in getting organized you need to get organized just to please you. Your desire to get organized is divine. You know intuitively that if you followed a path to order you'd be happier and more joyful. I really believe that too much stuff is what gets in your way.
Now, get quiet, take a few deep breaths and ask yourself, "Your name, what do you want your home to do for you?" Listen and write down your answer. When I did this exercise a song came to mind. It was one of my mom's favorites, Bless this House. When she was in a coma on her deathbed we played her favorite music for her in her room and when this song came on, she smiled. Here are the lyrics and a link to the Mormon Tabernacle Choir singing it.
Bless this House Words and Music by Helen Taylor and May H. Morgan ( a.k.a. Brahe ), 1927
Bless this house, O Lord we pray, Make it safe by night and day . . .
Bless these walls so firm and stout, Keeping want and trouble out . . .
Bless the roof and chimneys tall, Let thy peace lie overall . . .
Bless this door that it may prove, Ever open, to joy and love . . .
Bless these windows shining bright, Letting in God's Heavenly light,
Bless the hearth, a blazing there, With smoke ascending like a prayer!
Bless the people here within, Keep them pure and free from sin . . .
Bless us all that we may be, Fit O Lord to dwell with thee . . .
Bless us all that one day we may dwell, O Lord! With Thee!
Here's the link to the Mormon Tabernacle Choir singing Bless This House
Dear One, get organized just to please you. Let your innate wisdom guide you to create a home free of want and trouble. Here's a blog I wrote with some decluttering tips.
God bless you and God bless your home.
Love,