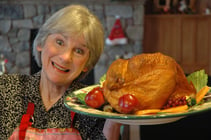 For Thanksgiving, we went back east to be with some of our family. You no doubt heard about the storms and flights cancelled by the thousands. Our flight home was scheduled to depart at 6:20 am so we got up at 4:00 to get to the airport in time to catch our flight.
The announcement came at 6:00 am as we sat in an early, morning daze, full of turkey and sugar from the day before. Our flight was delayed because of "an emergency mechanical problem." We never learned what that was. Passengers at the gate put on puzzled and confused faces and there was a general air of curiosity about the reason. But more important we wanted to know when it'd be fixed.
An hour went by and another announcement broke our collective wait. "We're sorry for the delay. We're issuing food vouchers so you can have something to eat while you wait. At this point in time we do not know a time." The food vouchers were good at any of the restaurants in the airport, so we took ours and had breakfast in a nice grill.
Another hour went by and this announcement had more teeth. "We've fixed the mechanical problem, and we're in the process of cleaning up." What would there be to clean up? Was the mechanical problem the cleaning service's vacuum blowing up while vacuuming up after the last passengers and blasting food all over the inside of the jet? Did something in the luggage section of the aircraft explode toxic ingredients? Did someone with the plague have trouble with his pacemaker before he died and leaked the plague all over the place?
At 9:00 am the announcement asked for volunteers to take a later flight. The reward for doing that was a travel voucher for $350. I asked Terry, my husband, what he thought about volunteering. He didn't want to.
We got to know a lot of people while we continued to wait. I talked with a lovely young woman who talked about her up-coming wedding. I got to see her wedding dress and her fiancé, thanks to her smart phone that served as a mobile photo album. She was eloping to Paris!
At 10:00 am the announcement we'd been waiting for came. "We're going to start boarding group C." We were in that group so we got on the jet and took our seats, 26 A and B. After about 20 minutes the jet was full….but evidently there was a problem. We were told later that they ended up having to get a different plane and it was smaller than the one with the emergency, mechanical problem. That's when another announcement went out to the full load of passengers. "We need two volunteers to take a later flight on another carrier. The volunteers will receive $500 travel vouchers." I looked at Terry and said, "Ya wanna get off?" He nodded and shot his hand up to volunteer our seats.
As we gathered our carry-ons and coats and headed toward the front of the jet, I noted the passengers were in total silence as they watched us inch our way passed each row. I couldn't stand the silence and I felt every eye on us. When we got to the first class section, I turned around and yelled to the quiet crowd of passengers, "It's been great guys!" The coach section erupted in laughter and we left flight 85 giggly and on their way to Portland without us.
In addition to the $1000 in travel vouchers we were offered three meal vouchers each; for we weren't going to be leaving until 6:00 pm. Terry countered with admission to the luxurious traveler's club for the airline we were going with.
We were personally escorted to The Admiral's Club where we spent the next six hours in heaven. As people watchers we were in for a treat for the people in an airport travel club are transitory. They stay about a half hour and then they're off to board their flights. We had at least 50 people entertain us with their family dynamics, their clothing; their eating habits their conversations and their love of life. I didn't see an unhappy person in the bunch and I noted people with money are quieter than the masses of people in a terminal. Everyone in the club used an inside voice, like it was innate.
We thoroughly enjoyed the people, the food, the wine and the atmosphere. We got to know several people and those we didn't connect with were so fun to watch. If you ever get into this predicament, I highly recommend asking for your wait time to be in a travel club if you don't belong to one. It was like being paid to go to a party!
I hope you all had a fabulous Thanksgiving!
To get into the Christmas Spirit, If you're not already, I recommend Home for the Holidays. A two-hour speech Peggy and I gave to a church group years ago. The information is timeless and applies even more today as we seem to get busier and busier.