Does being disorganized make you frustrated and angry with yourself? Can that anger and frustration send you off to the "Organizer" store to

buy shelves, filing cabinets, stacking bins and label guns? Being genetically disorganized do you end up with a disorganized stash of more organizing tools and more guilt.
Back in my SLOB days I answered "yes" to each of those questions, but I changed! In fact, I'm Flylady's mentor and if you've followed her you know our connection, for she openly shares the fact that it was my sister's and my books that changed her life.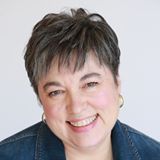 The zones in her flight plan were created by my sister and me and they were what ultimately gave us clarity and focus. Flylady and I have worked together and helped each other over the years with our main goal to help you get organized just enough to please you.
We've often talked about the primary purpose of our work, which is to help you love the miracle you are and secondarily show you the basics to be organized.
Which brings me to the question I posed in the title of my blog; would you rather be organized or be happy?
Just for a second, visualize your tombstone. Would you like it to read: She was organized? or She was happy? One of the biggest lessons I've learned in my 40-year career helping women love who they are and get organized just enough to be pleased, is that loving yourself has to come first. Love who you are and in that love you'll find the direction you need.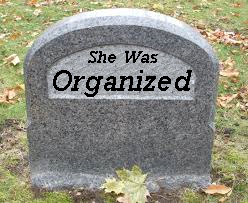 When I was a SLOB (slob stands for spontaneous, lighthearted, optimistic and beloved) I looked for joy and happiness in all the wrong places and my disorder increased with my search outside myself.
I often associated joy with romance and tropical beach-type relaxation time. I was a single mother of three. If I'd ever put an ad in the personals (this was before the Internet) it would have been cliché, "Love long walks on the beach, sitting by a crackling fire, blah, blah blah." Back then, I thought that if I could only play more, then I'd know more joy. So I made the decision to get organized so I'd have more free time to play.
It was that desire to play that lead me to get organized. It was my reason to get the house in order so I could play with my kids and my creativity. With the luxury of hindsight, I discovered there is an even greater joy. It's the Spirit within us and the wonderful ways that it expresses through us in creative ways. There's an unspeakable joy in discovering mysterious, unexpected and indescribable ways that Spirit makes Itself known through us!
When you come to realize that many things you're able to create, know, express, and share, are given to you whether you're organized or not you're on your way to loving who you are and being organized just enough to please you.
Find a quiet place, take five minutes and write down what you love to do.
Use up the full five minutes and when it's up, circle one thing on the list that you can do today. Then do it and promise yourself that you'll do it again this week. Getting organized just enough to please you, must start with pleasing you. Don't do it backwards.
If you enjoyed this blog, you'll enjoy this video of Flylady and me talking about being kind to yourself. http://blog.housefairy.org/flylady-marla-says-be-kind-to-yourself
Love, P.S. The Joy of Being Disorganized is a must read, if you want to get organized just enough to please you.