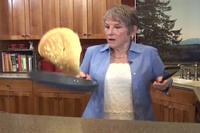 This cooking video shows you how to make low carb tortillas. Enjoy!
Suggestions for stuffing:
Peppers orange and yellow
Fried bacon in pieces
Cooked chicken
Tomatoes
Cheese
Olives
Spinach
Red onions
Put fresh ingredients in frying pan with coconut oil on medium heat for five minutes or long enough to heat up. Put half mixture on each tortilla, add cheese and fold it over. Put avocado and sour cream on top with a sprig of parsley.
Love, P.S. I would love it if you would write to me. Pam@pamyoung.org. I promise I'll answer you personally