Take the burrito challenge!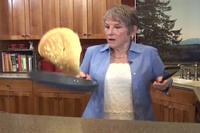 Forget that fast food place that leaves your stomach and your wallet feeling stressed...this homemade burrito recipe is what you've been waiting for when your taste buds are craving a little kick. Of course, since they are low carb, there's no calorie counting needed and you don't need to drain.....your bacon fat or the bank account.
Gather up some happy chicken eggs, spices, and thirty seconds of whiskey....or was that whisking? Well it's your burrito so you decide!
BREAKFAST BURRITO (for two)
Low-carb tortilla
4 eggs
2 tbsp water
One quarter cup almond flour
One quarter cup grated parmesan cheese
One half tsp. taco seasoning
In a quart Pyrex measuring pitcher beat 4 eggs, about 30 seconds. Add water, almond flour, parmesan cheese and taco seasoning and continue beating until well mixed.
In a frying pan melt about a teaspoon of coconut oil on medium high heat. Add half of the egg mixture and fry like a pancake. Flip to finish cooking the other side and place on cookie rack to cool. Cook second one.
Suggestions for stuffing:
Peppers orange and yellow
Fried bacon in pieces
Cooked chicken
Tomatoes
Cheese
Olives
Spinach
Red onions
Put fresh ingredients in frying pan with coconut oil on medium heat for five minutes or long enough to heat up. Put half mixture on each tortilla, add cheese and fold it over. Put avocado and sour cream on top with a sprig of parsley.
Love, P.S. I would love it if you would write to me. Pam@pamyoung.org. I promise I'll answer you personally.